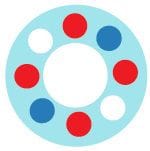 This type of partnership works well for school systems. In this model, we provide a train-the-trainer professional learning program for large numbers of schools. This is a multilevel, multi-site intervention design for whole systems or districts that need to engage in a rigorous large-scale change initiative.

In a System Partnership, district personnel, school leaders and school-based facilitators are trained to assess school needs, and negotiate goals and consensus. They also learn how to promote a culture of inquiry in the system's schools. Special courses help lead teachers develop in-depth literacy teaching knowledge, and promote skills in observation and instructional coaching.
Key district personnel participate in a series of workshops and short courses held at central locations where they learn to support leaders and teachers to success.

A System Partnership has an ongoing focus on building well-functioning professional learning communities, and promoting effective professional learning conversations.